Purple ribbons line Southwest Pkwy to honor Lauren Landavazo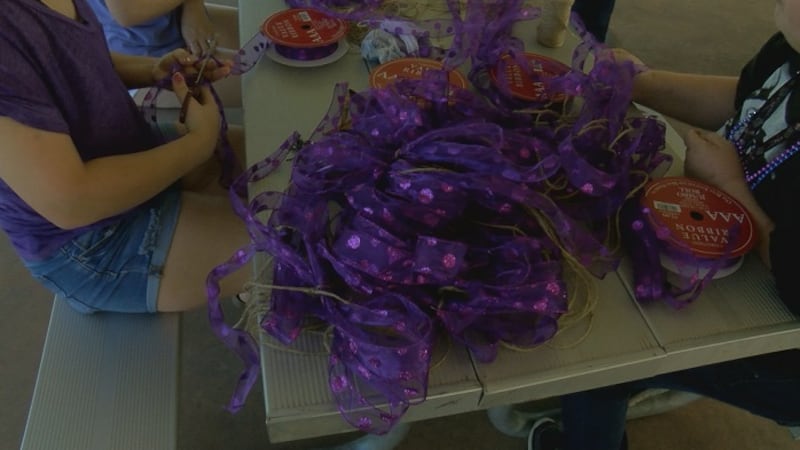 Updated: Sep. 20, 2018 at 6:52 PM CDT
WICHITA FALLS, TX (RNN Texoma) - Purple ribbons are lining Southwest Pkwy. from Fairway Blvd. to Barnett Rd. to honor 13-year-old Lauren Landavazo and welcome her family home from Fort Worth after an emotional trial that found Kody Lott guilty of murder of Lauren and aggravated assault of 13-year-old Makayla Smith.
A few people gathered at Kiwanis Park Thursday morning to make the ribbons and put them up because they believe it is the right thing to do.
One of those people was Debbie James.
"As a mother who has lost a child, I know it's very important when your child passes that they are always remembered," James said.
Losing a child is one thing she and Vern and Bianka Landavazo have in common.
"When anyone speaks your child's name, shares a story, shutters a memory, you are keeping them alive," James said. "You know that they existed and you know that they touched lives."
James said she met the Landavazos through the angel of hope project, an angel made to remember Lauren after she was shot and killed walking home from school.
"They are very special people," James said. "They are down to earth, caring, and they just want the world to be a little bit better because Lauren was here."
That is why James and a few others made purple ribbons, Lauren's favorite color, and put them on poles and trees along Southwest Pkwy.
"My sister was actually friends with Lauren," Reece Crosby said. "So I'm trying to show that I care about my sister, who cared about Lauren. That way people can realize that even though I didn't know Lauren, I still want to show that we are still here to help and take care of those involved."
Crosby said the tragedy has brought the community closer because Lauren's legacy is alive, and she wants to help it live on.
"The incident was a tragedy, what happened to Lauren," Crosby said. "But because of what happened, the community has wanted to show justice for Lauren and make sure Lauren's family is okay."
"There's a lot that has to continue to be done to keep Lauren's memory alive," James said. "When the Landavazo's come back I want them to know that this community will always remember Lauren."
Crosby said since Lauren's death she's been checking up on her loved one's more because you never know when they will be gone, and encourages others to do the same.
As far as Makayla Smith, some residents are putting up blue ribbons in her honor.
Blue is Makayla's favorite color.
Both Crosby and James encourage people to support the Smith and Landavazo families whatever way they can.
Copyright 2018 RNN Texoma. All rights reserved.