MSU Regents tour new health science building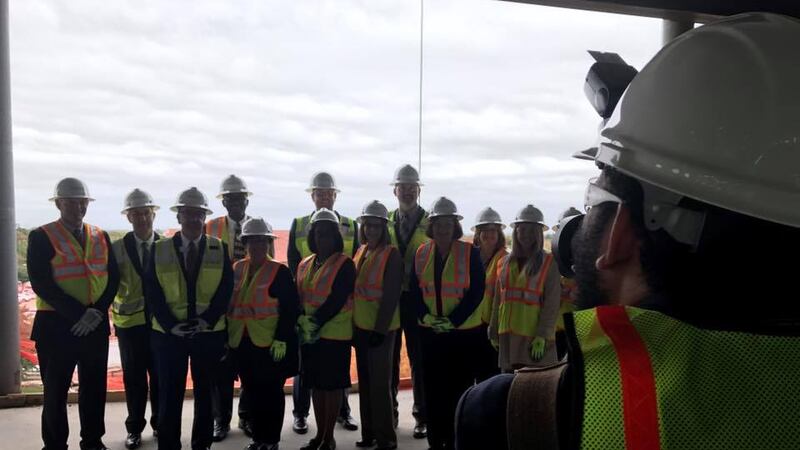 Updated: Nov. 8, 2018 at 6:25 PM CST
WICHITA FALLS, TX (RNN Texoma) - Midwestern State University's new Gunn College of Health Sciences & Human Services building is starting to take shape.
The $40-million, 89-thousand square foot facility does not just have MSU regents excited as they toured the building Thursday.
"It makes me feel like the university cares about the education they are giving me," said Leia De La Garza, Student Regent.
De La Garza is a campus tour guide and said the future facility gives potential Mustangs that same feeling.
"Having this building under construction means growth, growth is always good especially for a campus of our size," said De La Garza.
This semester the freshman class saw an enrollment increase of seven percent compared to last fall.
"We want to grow certainly our student population, with that we have to grow our faculty and staff to accommodate and then the physical space for everyone," said Doctor James Johnston, Provost and Vice President for Academic Affairs.
Dr. Johnston adds it is an important recruiting and teaching tool.
"The students coming from great area high schools they expect that same level of technology, and that matches the quality of education that we deliver," Dr. Johnston said.
The four-story building will have eight classrooms, lecture halls, labs, interactive television classrooms that will allow the university to broadcast to its Flower Mound location and more.
"An academic building truly is an instrument to facilitate the way we deliver education, so this has been intentionally designed to do that," said Dr. Johnston.
For those in health and social work courses to use and as a campus space for all students.
The facility is expected to be done June 2019 and they hope to have classes in there by the fall semester. Dr. Johnston said they are on budget and on time.
MSU is also expanding by adding two new minors, nonprofit management and marketing communication.
Copyright 2018 RNN Texoma. All rights reserved.