USPS mail carriers working overtime to deliver packages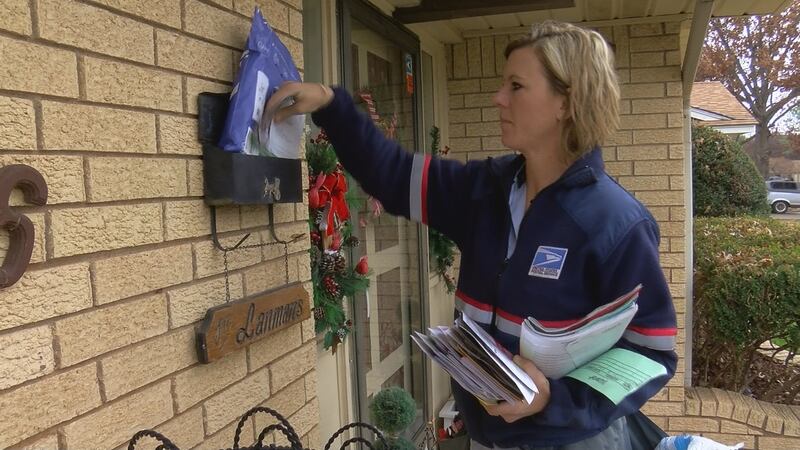 Published: Dec. 19, 2018 at 6:46 PM CST
WICHITA FALLS, TX (RNN Texoma) - USPS mail carriers are working overtime to deliver packages and mail on time for the holidays.
USPS reported between December 10 and December 23 its mail carriers will deliver more than 200 million packages each week and 3 billion first-class mail. That is 900 million packages and 16 billion pieces of mail.
"It's been very busy," Robin Morgan, a mail carrier, said. "I've been working this route for four years and this year seems like it's been more than previous years."
Wichita Falls Postmaster John Pezzano attributed the increase in package deliveries to a rise in online shopping.
Pezzano said package deliveries rose by 14 percent compared to last year.
He said his mail carriers are now working seven days a week from 6:00 a.m. until 6:00 p.m.
Pezzano said they hired more employees as well.
"I've been working with the Postal Service for 33 years and this will be my 33rd Christmas," Pezzano said. "We've been doing this stuff for 240 years and we love this stuff. I'm excited for us and my staff. They look forward to this and they love interacting with their customers and seeing that face of a child when they deliver that package it's what we do."
He said the last day to ship a package and guarantee it arrives by Christmas Day is Thursday, Dec. 20.
Pezzano advises signing up for informed delivery. He said it helps customers ensure their packages end up underneath their tree and not in the hands of a porch pirate.
Copyright 2018 RNN Texoma. All rights reserved.