Mural kicks off project in city's east side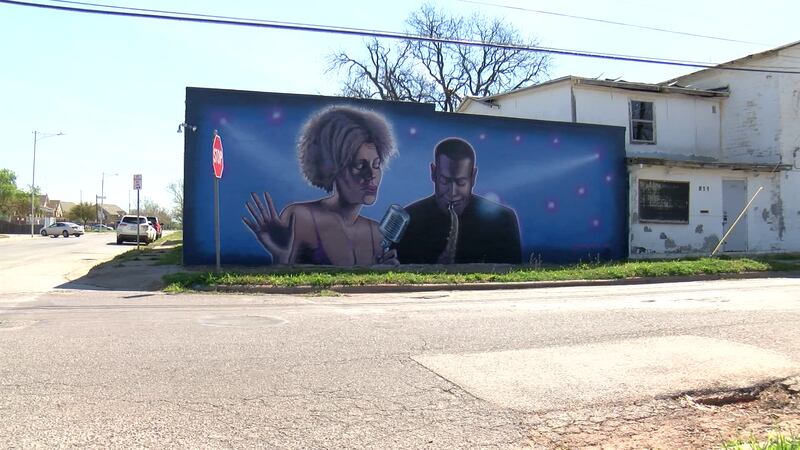 Updated: Apr. 2, 2019 at 5:10 PM CDT
WICHITA FALLS, TX (TNN) - A new mural on the east side of Wichita Falls is shining light into the history of music and entertainment, which is important to that side of town.
This mural is part of a new initiative by the Wichita Falls Alliance for Arts.
"Just to bring some beauty and some life to some walls," said Audra Lambert, the program manager with the Wichita Falls Alliance for Arts and Culture.
The mural "I Love You" at the Elks Lodge was created by Artist Ralph Stearns and it's all part of the Eastside Mural Project.
"It's gorgeous," said Cheryl Wilson, who works nearby the mural. "It really adds to the neighborhood."
This mural is one out of four murals that will be created on the city's east side. Wilson said she is very excited to find out where the others will be installed.
"I think it's great. We have artwork all over town with the horses and some of the other things and I just really think that here on the east side we need some beautiful art," said Wilson.
Officials with the Wichita Falls Alliance for Arts and Culture hope this project will spark a conversation about the arts.
"It's very exciting, arts can really drive an economy and a community and really help to bring folks together in a way in which nothing else is able to do," said Lambert.
The Eastside Mural Project is being funded in part by a grant from the Texas Commission on the Arts.
More details on this project, like where the other three murals will be installed and who will create them will be shared on Friday during the "I Love You" mural reveal event.
That event will be held at the corner of Homes Avenue and Flood Street at 11 a.m.
Copyright 2019 Texoma News Network. All rights reserved.