Road to College summer program begins at MSU Texas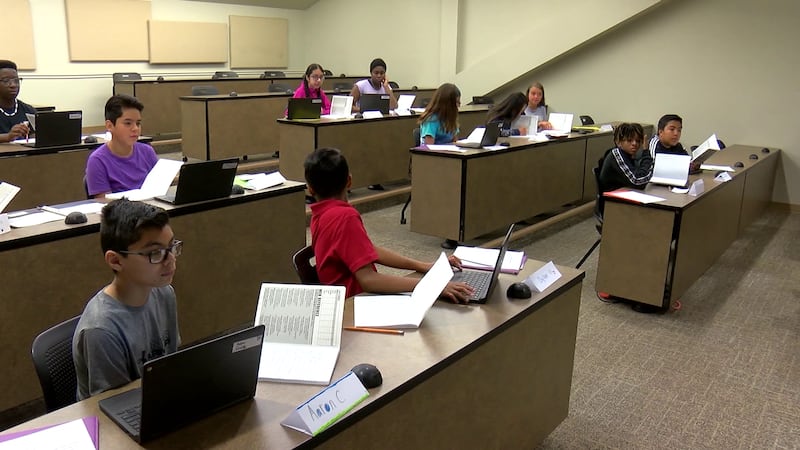 Updated: Jun. 12, 2019 at 5:55 PM CDT
WICHITA FALLS, Texas (TNN) - Eight classrooms on the campus of Midwestern State University were filled with Wichita Falls ISD students on Tuesday.
"We were reading a book and its called 'Hello Universe' we just started it and we are also learning new gaming websites for the class," said Shelton Brown, a student.
All 110 students who were there are Road to College members and were selected out of 360 to participate in the six-week long academic summer program.
All of them have or will be taking Pre AP or AP classes in the fall, so right now they are getting a sneak peek.
"Last year I was introduced to 9th-grade stuff and whenever the teacher mentioned it I was like 'oh I learned that before and I've seen it before' so I knew kind of how to do it," said Angela Duron, a leader and mentor for the program.
"We are concentrating on Algebra and English because those are the classes that our students need most," said Gonzalo Robles, the founder of Cafe con Leche and organizer of this program. "Our 8th and 7th graders are also having access to technology provided by Dexter Learning."
Since the program started, students who have completed the program like Mikayla Brown and Duron have been promoted to leaders.
"I was a little bit shy and kind of afraid to take command but as the weeks kept going on I was able to say I can take command. I know how to do this, I just need to use my voice," said Brown.
The core classes are just part of the program, students are also learning about the importance of etiquette and living a healthy lifestyle.
Robles said the $35,000 summer program is funded through donations and grants.
"This year we are getting funding from all of these places so the parents don't have to pay one penny," said Robles. "The only thing I expect from the parents is to have them on time and to follow our expectations for our students."
Right now the program is only available to WFISD middle school students but Robles said they hope in the future they can raise enough money to offer the program to high school students.
Copyright 2019 Texoma News Network. All rights reserved.