'In Motion' wraps up Eastside Mural Project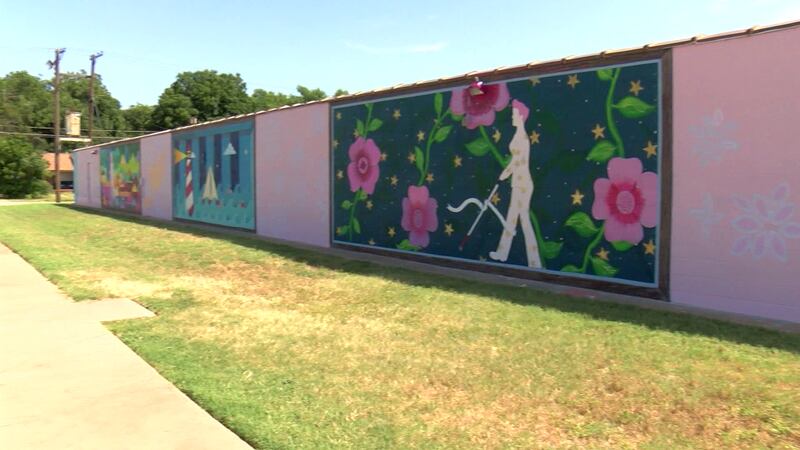 Updated: Jul. 2, 2019 at 5:22 PM CDT
WICHITA FALLS, Texas (TNN) - Dozens of people gathered at the Beacon Lighthouse for the Blind on Tuesday for the unveiling of Brea'n Thompson's mural 'In Motion'.
This mural marked the final piece of the Eastside Mural Project. An initiative by the Wichita Falls Alliance for Arts and Culture
"I would never have imagined fourteen years ago when I was painting my first mural in my bedroom that I would be here at a 145-foot wall talking to the news," said Thompson.
"I Love You" by Ralph Stearns started the Eastside Mural Project in April. In May, the second mural, "Imaginative Minds," was unveiled and just last week the public got to witness for the first time the canvas for 'Jacobie's Wall.'
"We conceived the idea back in the Spring and wanted to find a way to help the rest of Wichita Falls," said Margie Reese, Executive Director for Wichita Falls Alliance for Arts and Culture. "To see that the arts are alive and that the arts have a role in the community."
These projects have not only brought much-needed color to this side of the city but its also brought the community together.
"Just because someone decided to create a line of demarcation and create this boulevard of railroad tracks does not mean that we have to perpetuate separation. We are one community," said Reese.
"I'm seeing people here that are coming all the way from different parts of town to see the murals and take pictures and I think that's really cool," said Thompson.
Longtime residents like Davis Christoper are enjoying every bit of it.
"All the beauty of the murals that they are putting up, that's great," said Christopher.
Along with those who got some color on their walls, the Eastside Mural project was funded in part by the Libra Foundation and The Texas Commission on the Arts.
Copyright 2019 Texoma News Network. All rights reserved.