Texas Game Warden share safety tips ahead of Fourth of July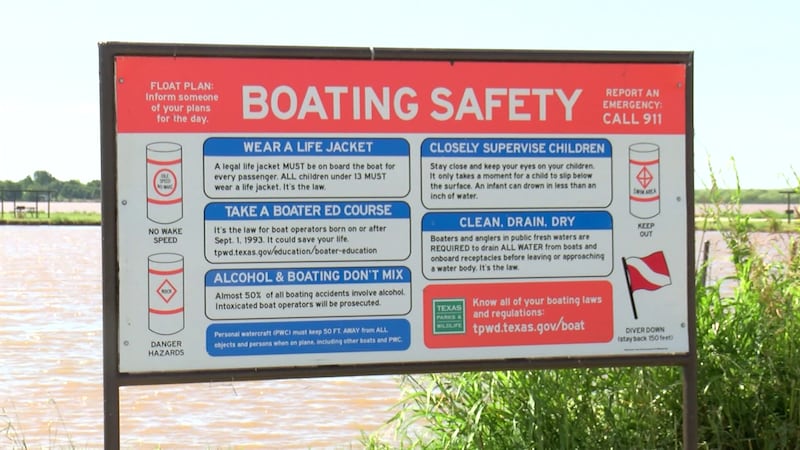 Updated: Jul. 3, 2019 at 5:17 PM CDT
WICHITA FALLS, Texas (TNN) - John Charlton Sr. was just one out of several people at Lake Arrowhead fishing on Wednesday.
"I've been fishing since I guess I was about four years old," said Charlton Sr. "I'm 70 now so it's been a day or two."
He beat the crowd by going a day before Fourth of July.
"The early bird catches the worm and in this case, we are trying to catch some of the fish before they get them all," said Charlton Sr.
His plans for Independence Day are still up in the air but for many, Lake Arrowhead is where they will celebrate.
"Being on a Thursday I expect we will have a big crowd out here Thursday, Friday, and Saturday."
Whether you will be boating, swimming or just out in the heat, Texas Game Warden Eddie Hood said your safety should be on your mind and they will be there watching.
"We're going to be checking that all of the kids that are under 13 years old have their life jackets on," said Hood.
Personal watercraft need to be out of the water after sunset. Any motorboats on the water after sunset are okay but are required to have navigational lights.
"Anyone that is impaired or over .08 is subject to arrest for boating while intoxicated," said Hood. "In addition to that, anyone that's on the shoreline or in the water and is intoxicated can be taken to jail for public intoxication."
Regardless of what you plan to do on Thursday at the lake, everyone is recommended to drink plenty of water and put on sunscreen.
"Just have a great time," said Charlton Sr. "Leave the world behind and enjoy yourself."
Copyright 2019 Texoma News Network. All rights reserved.