Construction at MSU Texas on track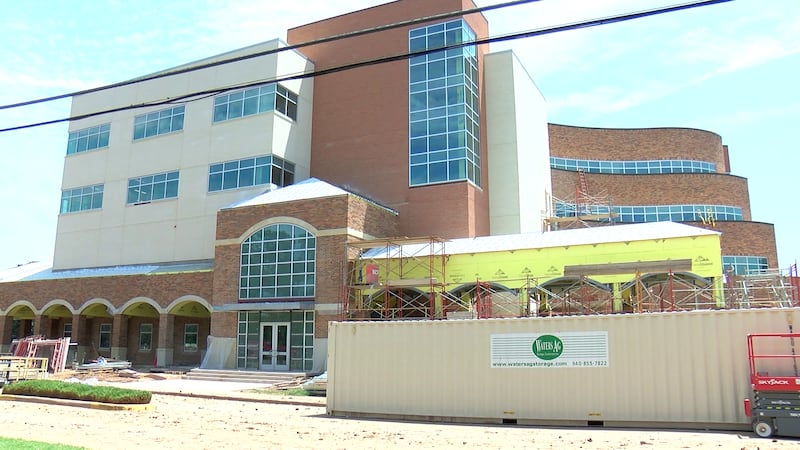 Updated: Jul. 9, 2019 at 6:33 PM CDT
WICHITA FALLS, Texas (TNN) - Construction projects at Midwestern State University are on track.
Starting off with their brand new health sciences facility that's been in the works since 2014.
"It's been a great experience, great project and I think this is a great opportunity for MSU Texas," said Dr. James Johnston, the Provost and Vice President for Academic Affairs.
Dr. Johnston has been part of this project since the very beginning.
"The health sciences, for some time has represented about 40 percent of our student population. It's extremely a large program and we had just outgrown the facility," said Dr. Johnston.
The new 87,000-square-foot facility was recently named Centennial Hall after the administration received input from across campus including the students who will benefit from it.
It will house the new dental hygiene clinic, all areas of nursing, radiologic sciences, respiratory care, and social work.
"This new facility is designed to promote and encourage cross-discipline learning so the labs and the spaces, both passively and actively will see those opportunities," said Dr. Johnston.
Dr. Johnston believes the state-of-the-art facility will bring in more students to MSU Texas who hopefully will then stay at Wichita Falls to start their career.
"Working with the city also on internships and opportunities to retain more of our graduates here in the city," said Dr. Johnston. "We can bring them here and provide a world-class education but we also need the jobs here and the opportunities for when they graduate."
Meanwhile, on the other side of campus, renovations at Moffett Library continue and are also on track.
"We haven't had a major renovation since 1986 so this is going to be a big improvement," said the University Librarian, Clara Latham.
Renovations on the third floor finished in May. The second floor is 95 percent complete and students should have access to it in the Fall.
"We've added four study pods and we've renovated all of our group and individual study groups," said Latham.
Crews are now working on the first floor. The whole project is estimated to be completed in April 2020.
Both projects are part of the $58.4 million in tuition revenue bond funding appropriated by the state in 2015.
A grand opening ceremony for Centennial Hall is set for September 6th.
Copyright 2019 Texoma News Network. All rights reserved.