Animal control use social media to spread awareness after puppies dumped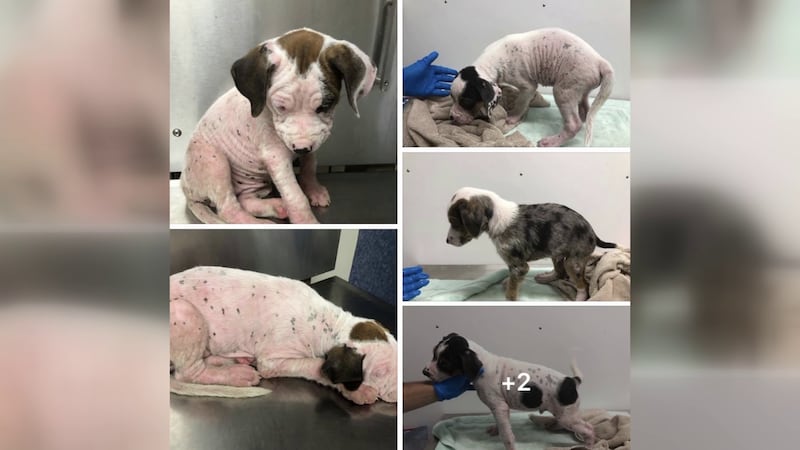 Updated: Jul. 17, 2019 at 5:55 PM CDT
WICHITA COUNTY, Texas (TNN) - An Iowa Park Animal Control Officer released her anger on social media this week after taking in five puppies who were dumped in Wichita County.
"I was incredibly angry and then sad," said Christine Dison, an animal control officer in Iowa Park.
The woman who found the puppies on Monday took them to the Iowa Park Animal Reclaim Center.
They were dehydrated, anemic, had worms and mange. Such terrible condition, Dison believed the puppies would not make it but they turned out to be fighters.
She says the vet confirmed the mange they have is not contagious to people. Now that they are recovering, she's using their story to spread awareness.
"It needs to stop, it's just ridiculous," said Dison. "We need to address the issue, we need people to know that there are resources to get the animals fixed. We don't need to be having all these extra puppies."
"We have a lot of caring animal lovers here in our community that can help them," said Mandi Pfeffer, the animal control and kennel coordinator for the Wichita Falls Animal Services Center.
If owners can no longer care for their pet, they can surrender them for $25 at the Wichita Falls Animal Services Center during business hours. However, if you find an abandoned animal in city limits that fee does not apply.
"Definitely give us a call and we can start that process so we can try to remove the dog, or whatever the animal may be, out of the situation," said Pfeffer.
If you have any information on who dumped the puppies, you are asked to call the Iowa Park Animal Reclaim Center at 940-592-2181.
The reclaim center is run by the city of Iowa Park so they don't get grants or funding from charities and can only provide minimum care to the puppies through donations.
If you want to help by donating, becoming a foster, or adopting a puppy you're asked to give them a call.
Copyright 2019 Texoma News Network. All rights reserved.