WF community members attend 'Close the Camps' protest in Lawton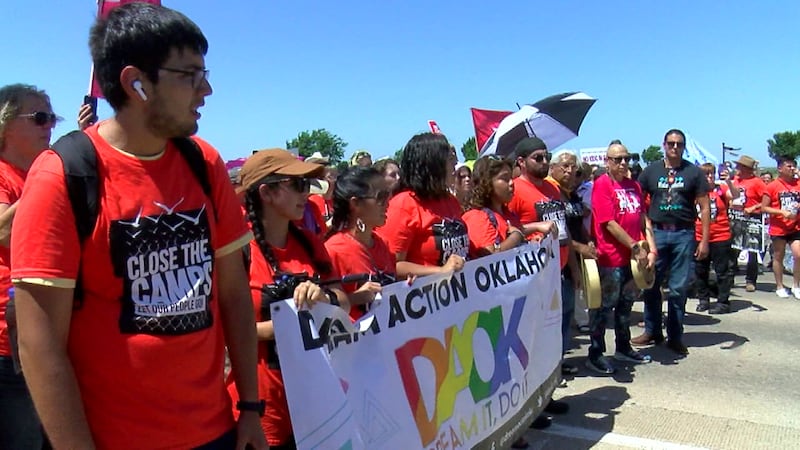 Updated: Jul. 22, 2019 at 4:49 PM CDT
WICHITA FALLS, Texas (TNN) - On Monday, we confirmed a date for the arrival of migrant children to Fort Sill has not been set.
The U.S. Department of Health and Human Services tell us, "No children will arrive before the facilities are prepared to safely house and care for incoming minors."
Some Wichita Falls residents were at the 'Close the Camps' protest over the weekend in hopes the separations stop.
"My grandchildren don't have completely white skin, I'm scared for them," said Carrol Strain, a Wichita Falls resident who attended the protest. "I'm scared for our country, so I showed up and I'm scared to show up, but I showed up."
Strain was just one out of hundreds who stood outside Fort Sill in Lawton on Saturday demanding the government to stop separating children from their parents.
"When my children were little I couldn't stand to leave them for more than a couple of hours with someone I trusted," said Strain. "Can you imagine what it's like having your child torn from you and leaving them with people you don't really trust."
At that same protest marched Wichita Falls MCC Rev. Mel Martinez.
"This is not a problem just for the people who live next to Fort Sill. This is not a problem just for the people who live at the borders. This is a problem for all of us," said Rev. Martinez. "The fact that we are taking children away from their parents and that we are treating asylum seekers as if they are criminals, we need to address this as a community."
In June we told you Fort Sill would be used as an emergency shelter for migrant children traveling without their parents.
We are told those children will be around the ages of 13 and 17.
"I think we need to take a look at these systems, these structures," said Rev. Martinez. "We need emergency aid to pair these children back up with their parents and we need to do some real investigation as to what kind of plans they did have."
Copyright 2019 Texoma News Network. All rights reserved.