New bike lane marks the start of new project in WF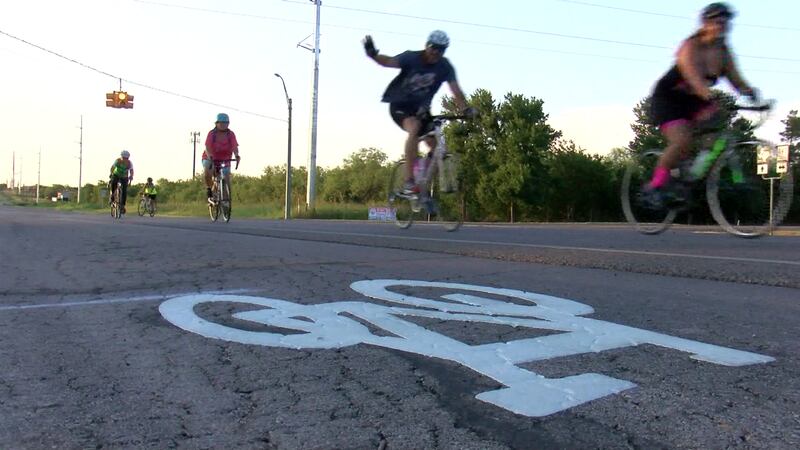 Updated: Jul. 30, 2019 at 4:29 PM CDT
WICHITA FALLS, Texas (TNN) - The City of Wichita Falls is moving forward with a project that will help them become a bicycle-friendly community in the future.
Dail Neely, a cyclist and member of Bike Wichita Falls, said he is excited to see FM 240, between Burkburnett Road and Missle Road, now designated as a bike lane.
"It's a well-used cycling area already and so now having that sign so motorist know that we are going to be out there is going to be very helpful," said Neely.
The Wichita Falls director of transportation, John Burrus tells us this is just the start of a new project, putting Wichita Falls, one step closer to claiming the title of a bicycle-friendly community.
"We're looking at adding about 20 miles of bicycle lanes a year, so we are looking at a 4 to 5-year window to get some work done, but once we are complete it will be about 100 miles of bicycle lanes, both shared and dedicated lanes," said Burrus.
The new lane is 3.5 miles or 7 miles in both directions, making it the first major bike lane in the city.
"We only have a small one right now on Hamilton Street but of any significant of length or size of a project, this is our first big project," said Burrus.
While it will take some time for the city to earn the recognition, that only 11 communities in the state currently have, Neely said cyclists are glad to see the city moving forward.
"It's great that the city is taking action," said Neely. "We applied for that designation I think like 3 or 4 years ago and got an honorable mention, didn't actually get the status, but I think now with the city on board I think it's more likely that we can achieve that status and hopefully keep that status when we achieve it."
Copyright 2019 Texoma News Network. All rights reserved.