Female officer among latest WFPD graduating class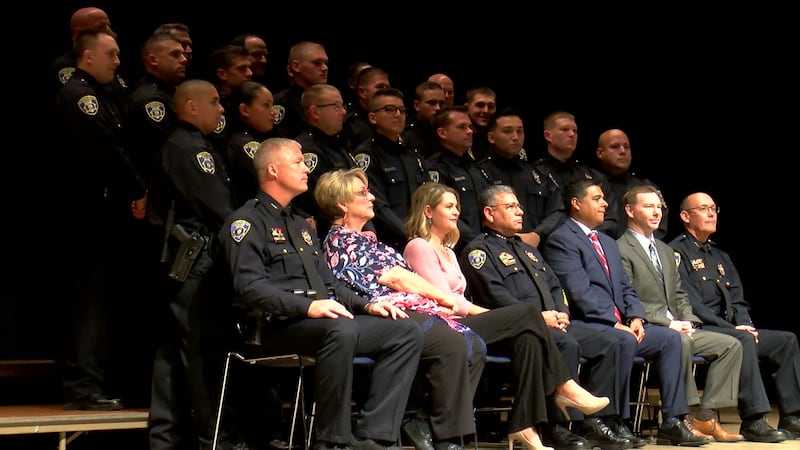 Updated: Aug. 2, 2019 at 6:25 PM CDT
WICHITA FALLS, Texas (TNN) - More female officers are putting on the badge to serve and protect the streets of Wichita Falls.
On Friday, another female officer proudly joined 14 officers as they were dismissed from class for the last time during the 72nd WFPD police academy.
"It's always a great day for the community when we have new police officers that can fill the ranks and the vacancies that we have," said WFPD Police Chief, Manuel Borrego.
After 26 long weeks of hard work and dedication, the police officers will now help protect the streets of Wichita Falls.
"It seems like yesterday that we came in the academy as a group of strangers but now as we stand before you all, wearing this badge and uniform we have all worked so hard to earn, I can say we've become a family," said Officer Blake Mawson, the Honor Grad.
Among those behind the badge is the only female officer in this group, Officer Angelica Martinez.
After weeks of training on everything from making traffic stops to getting pepper-sprayed, the hard work has paid off.
"I was just one of the guys," said Officer Martinez. "It wasn't anything different, nothing special, so I'm very grateful for that."
Officer Martinez credits her cousin, a retired Houston police officer for leading her to this career.
"I grew up with him just across the street and I just fell in love with the whole profession and here I am," said Officer Martinez. "I can't put it into words, this has been a life long dream for me, so its finally here and I still can't believe it honestly."
The next step is for these officers to go into a 3 month long field training program to work along side veteran officers.
Copyright 2019 Texoma News Network. All rights reserved.