Pay raises, bond discussed during WFISD Special Session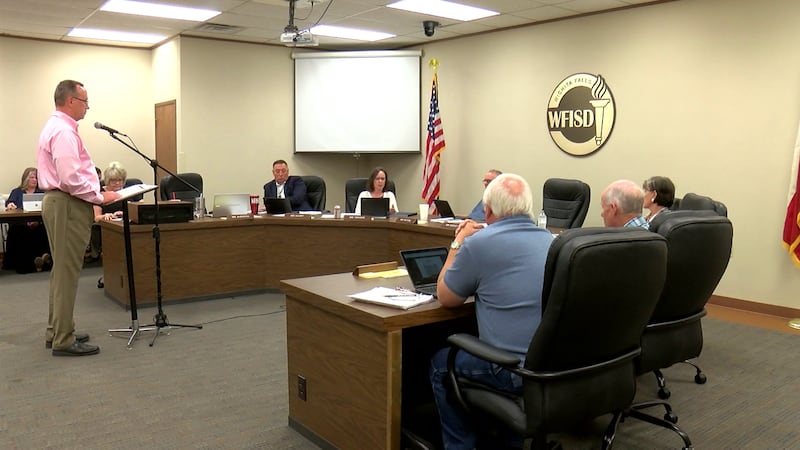 Updated: Aug. 8, 2019 at 6:41 PM CDT
WICHITA FALLS, Texas (TNN) - A Wichita Falls ISD bond proposal that's been discussed for quite some time will no longer happen in November.
The bond proposal involved two options. Option A would be a single high school model and option B would be a two high school model.
WFISD Superintendent, Michael Kuhrt tells us the last few months they've been working on numbers and figuring out what schools would they keep or even retire. On Thursday, school board members agreed they are not ready to call for an election.
"The earliest we can do is a May bond, so that means that election has to be called in February of 2020 for a May 2020 election," said Kuhrt. "If it's not May 2020 election it will not be until the general election in November of 2020."
During the discussion, WFISD At Large, Katherine McGregor said after speaking with other community members she had another option she wanted to pitch. That option involves two schools, a 4A and 6A. Her idea will be presented on Tuesday.
Pay raises were also discussed on Thursday.
Since June school districts in our area have announced their salary schedule following Texas House Bill 3.
The board discussed how a total increase of $24 million from the state will be used this year and agreed to spend over $10 million in pay raises.
"All of our teachers will receive anywhere from a $5,000 to $9,000 increase, a 13 to 17 percent increase on a teacher salary," said Kuhrt.
During the discussion, some did not agree on the ten percent other staff members would get. For example, paraprofessionals, secretaries, and instructional aids. The district plans on comparing salaries with other school districts similar to them and will bring it back for the board to approve on Tuesday.
Copyright 2019 Texoma News Network. All rights reserved.