Sign-up event being held for this year's T.H.O.R. event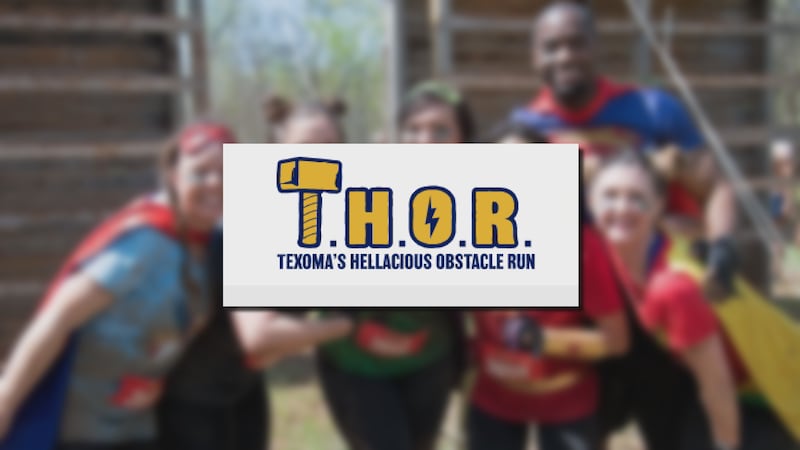 Updated: Feb. 12, 2020 at 10:39 AM CST
WICHITA FALLS, Texas (TNN) - The sign ups for this year's T.H.O.R. event will be taking place on Wednesday, Feb. 12.
On the Border Mexican Grill & Cantina located at 3111 Midwestern Pkwy, is hosting a sign-up event for Texoma's Hellacious Obstacle Run (T.H.O.R.) from 5 to 7 p.m. on Feb. 12, to get people signed up for this year. You can also register online. Representatives for T.H.O.R. will be there to tell you all about how you can participate.
If you stop by On the Border during the sign up event, you can receive a special discount on your meal.
This year's T.H.O.R. will be held on April 18.
This year they have decided to include a costume contest. Most participants in years past have dressed-up or gone all out in a costume for the event, now those costumed contestants will be recognized. You do not have to sign up as a group to be considered a group costume contest winner.
T.H.O.R. is a non-profit 5K race that benefits the Leadership Wichita Falls and the Wichita Falls Streams & Valleys.
This mud-riddled adventure will start in Lucy Park and follow the Wichita River, going right past the Falls, through Camp Fillers, and rounds out at Lucy Park again. This is the fiercest obstacle run in Texoma.
For more information you can visit the T.H.O.R. website.
Copyright 2020 Texoma News Network. All rights reserved.