Texas lawmakers are looking at tougher punishments for catalytic converter thieves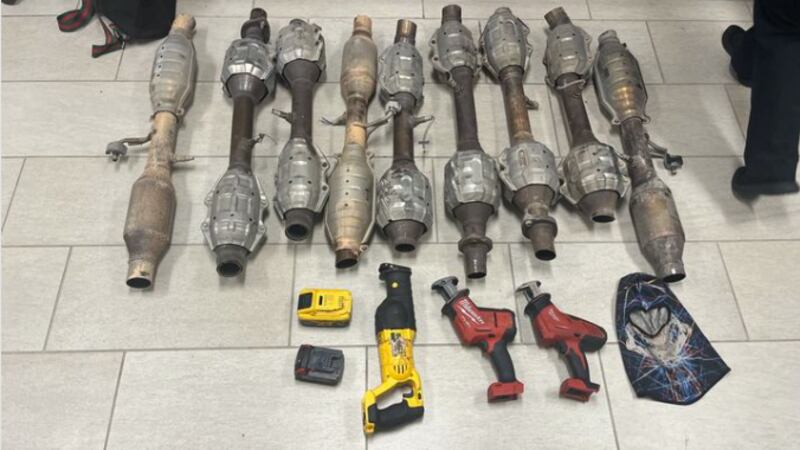 Published: Jan. 24, 2023 at 9:43 AM CST
MESQUITE, Texas (CBSDFW.COM) – It may be the most prolific crime happening right now in North Texas.
Neighborhood social media sites are burning up these days with posts about catalytic converter thefts that cost people with high insurance deductibles a lot of money.
It's gotten the attention of state lawmakers who are looking at tougher punishments for thieves like the ones who stole the catalytic converter from John Counts' truck.
Counts had no idea how expensive his lunch would be when he walked into a Balch Springs restaurant last Monday.
"I come up here everyday," he said. "This is my sister's restaurant and I come up here for coffee every morning."
While Counts and other customers were sitting around at Peggy's Country Cafe, security cameras captured two people parking a car right next to his Toyota Tacoma pickup truck right in front of the restaurant.
One of the two walked inside asking if the restaurant sold cigarettes, then went outside and opened the door for another person who got out and slid under Count's vehicle with a power drill.
They removed one of the catalytic converters in less than a minute, put it in their trunk and drove off.
"When I got ready to go, I come out and I started my truck up, boy it sounded like a bomb," Counts said.
The security cameras recorded Counts trying to figure out what was wrong with this truck.
He finally looked underneath only to realize he was the latest victim of a crime that a lot of people across North Texas can relate to.
"I don't like a liar or a thief and that's what they are, they're no good, they need to be caught and severely punished," he said.
That's what a bill in the state legislature is designed to do.
A state senator from Houston wants to add organized crime charges to those arrested for catalytic converter thefts and limit those who can possess them to only auto repair shops and salvage yards.
It's in response to a 5,300% increase in catalytic converter theft auto insurance claims in Texas since 2019.
Thieves can sell stolen catalytic converters for several hundred dollars because of the platinum and other valuable precious metals that are used to make them.
Balch Springs Police told CBS 11 they are still looking for those behind the theft of Counts' catalytic converter.
It cost this 73-year-old retiree $900 out of pocket to get his only vehicle working again, even with insurance.
"Whether I could afford it or not I had to pay it," Counts said. "I've got to have my truck. It did hurt me."
Really, the only way to protect your vehicle while it's out in the open is to invest in a steel plated shield to cover your catalytic converter.
They cost around $300, but they can double the time it takes a thief to do their dirty work.
© 2023 CBS Broadcasting Inc. All Rights Reserved.