Woman sentenced to 30 years for sexual assault of girl, 12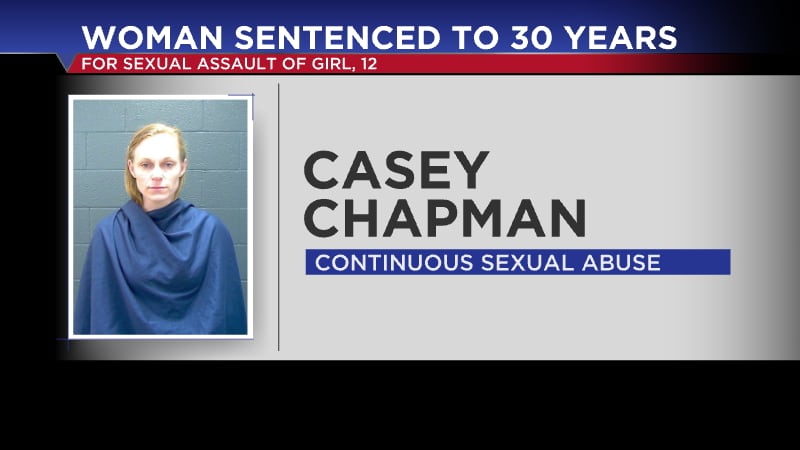 Published: May. 4, 2023 at 12:27 PM CDT
WICHITA FALLS, Texas (KAUZ) - A Wichita Falls woman has been sentenced to 30 years without parole for continuous sexual abuse.
89th District Court Judge Charlie Barnard handed down the sentence to Casey Chapman as part of a plea bargain with the district attorney's office on Thursday.
Chapman was arrested in February 2019 and charged with four counts of Aggravated Sexual Assault in connection with a reported sexual assault of a 12-year-old girl. Chapman's boyfriend, Shannon Wells was also charged.
"Under Texas law, Chapman will do every day of this 30-year sentence and will never have the possibility of parole," Dobie Kosub, First Assistant District Attorney, said in a press release. "This would be the equivalent of a 60-year sentence for non-continuous crime such as murder or sexual abuse, as they carry the possibility of parole."
The plea meant the victim did not have to testify. Kosub said the DA's office met with the victim and her family about the plea. They were reported to be supportive of the 30-year day-for-day sentence.
"As part of this agreement, the Defendant gave up her right to appeal," Kosub said in a press release. "So, the victim has the peace of mind of knowing this sentence is final and the public is saved the cost of a trial and an appeal."
WFPD's Crimes Against Children detectives' investigation was integral in helping get Chapman off the streets, Kosub said in the release.
Copyright 2023 KAUZ. All rights reserved.