WF lawyer bonds out of jail, faces felony charge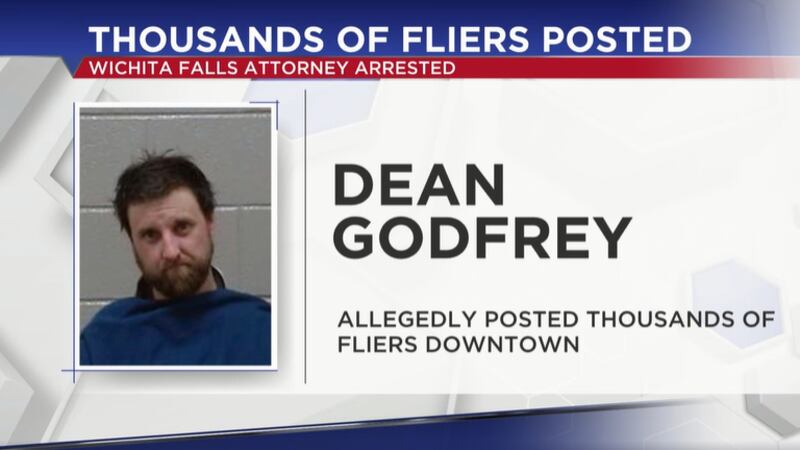 Published: May. 25, 2023 at 4:44 PM CDT
WICHITA FALLS, Texas (KAUZ) - 34-year-old Dean Colin Godfrey has bonded out of jail for the third time in relation to Stalking charges.
Godfrey was originally booked for the third time on May 21 for new charges.
The most recent charge is a third-degree felony charge for violating the conditions of his bond after posting flyers across downtown Wichita Falls with alleged messages between himself and the victim.
Investigators were made aware of photo flyers with the victim's picture posted on the side of buildings by a reporting party at Bohn and Bohn Associates. Different flyers including email threads, Snapchat threads, and other messaging platforms were discovered, according to court documents.
Many of the flyers included information about a previous incident, such as a flyer that had a photo of the victim climbing a fence and exiting a doorway with the statement "WHO IS STALKING WHO?" printed on the flyer.
Another type of flyer listed in the arrest affidavit appeared to be an email thread from the victim to Godfrey and reads " 'VICTIM' VOLATING HER OWN PROTECTIVE ORDER ... WHY? Because she doesn't actually want it." The reporting party told investigators that the email thread may be fabricated because the victim was locked out of her email by Godfrey.
According to court documents, officers believe that Godfrey posted these flyers and said that nobody other than Godfrey would have access to the information on the flyers. Investigators noted that Godfrey's ankle monitor had been altered and it was not possible to track on this date.
The affidavit described that Godfrey's ankle monitor was altered due to a failure to charge the battery, which disabled the GPS signal temporarily. The Wichita County Community Supervision and Corrections Department attempted to contact Godfrey numerous times about the charging issue with no response.
Since Godfrey was booked on May 21, investigators have listened to jail calls Godfrey has made. The court document said that in a conversation with his mother, Godfrey complained about being booked for not charging his ankle monitor. His mother stated "You made more bad decisions", to which Godfrey replied, "I didn't charge the [censored] thing, that's it!"
According to the affidavit, Godfrey's mother then said, "That's not what I'm talking about". Investigators said Godfrey's mother was referencing the flyers being placed around town. Godfrey responded to his mother during the phone conversation from the Wichita County Jail and said, "I'm actually kind of excited about this, I mean, she needed to be smeared, HAHA!"
The affidavit said Godfrey also stated, "There's 5,000 of those things, they're everywhere HAHAHA!" Police said Godfrey then said, "They'll find them for weeks." during the phone call.
Godfrey is scheduled to appear in the 89th District Court on Thursday, May 25 for a motion hearing by Judge Charles Barnard.
He is facing two felony charges of repeated violations of certain court orders or conditions of bond and stalking as well as a misdemeanor charge of criminal trespass.
Stick with News Channel 6 on this developing story.
Copyright 2023 KAUZ. All rights reserved.