Mother raises awareness about motorcycle accidents
Published: May. 26, 2023 at 6:54 PM CDT
WICHITA FALLS, Texas (KAUZ) - Laramie Fowler lost his life last month. Fowler, a Jacksboro volunteer firefighter and retired marine was killed while driving a motorcycle. His mother, Deanna Brown believes his death could have been prevented.
"Instead of trying to beat them through the intersection, wait for that second, let them get through," said Deanna Brown, mother to Laramie Fowler.
Fowler was traveling Westbound on Highway 199 and the pickup truck that struck him was heading Eastbound on 380. The driver of the truck says he didn't see Fowler.
"As he was coming into town somebody didn't stop at the yield sign behind us and he turned coming to this direction in front of my son and impacted the sign of his truck," said Brown.
According to the Texas Transportation Institute, crashes between motorcyclists and drivers often occur when drivers make left turns, especially at intersections, and fail to yield the right of way to motorcyclists.
"Can you safely make it through that intersection without encroaching upon the oncoming traffic so when we look at that and we take a few seconds and we take out turn to make sure that we can safely get through it," said Lieutenant Bryan Corb of the Jacksboro Police Department.
"There was at least half a mile for the other gentlemen to see him coming. Because of a one-second decision, he took the life of somebody that was just starting out his life," said Brown.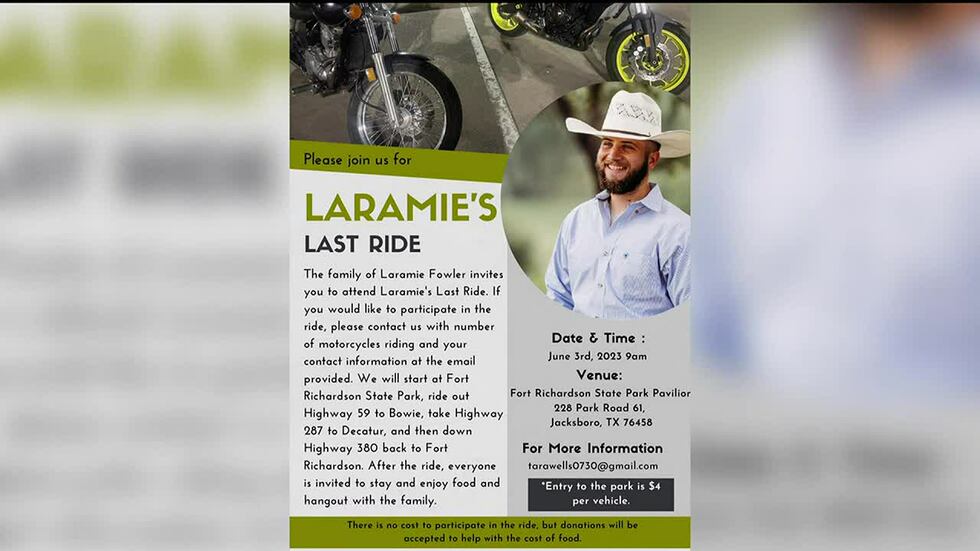 Copyright 2023 KAUZ. All rights reserved.