Man wins $3M lottery jackpot on his birthday, doesn't find out until weeks later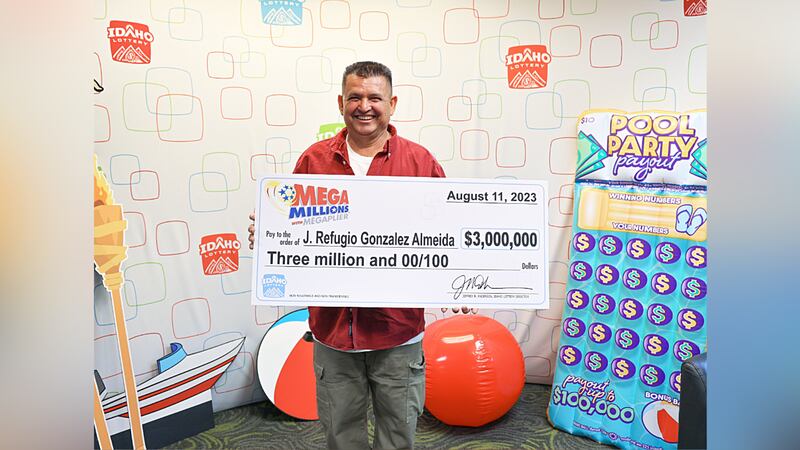 Published: Aug. 22, 2023 at 4:27 PM CDT
MALAD, Idaho (Gray News) - A man in Utah got a belated birthday present worth millions of dollars thanks to playing the Mega Millions.
According to the Idaho Lottery, J. Refugio Gonzalez Almeida bought a winning $3 million Mega Millions lottery ticket over Independence Day weekend but didn't realize it until a month later.
Almeida, a Utah resident, traveled to Idaho before the 4th of July holiday to purchase lottery tickets for the $400 million Mega Millions jackpot.
"Playing the lottery is my hobby. I bought all the games, including Mega Millions. I had a lot tickets," he told lottery officials.
On the Mega Millions draw for the Fourth of July, which coincidently was his birthday, Almeida's ticket matched the first five numbers. It didn't match the Megaball but it had the Megaplier feature.
The Megaplier number for that draw was 3, turning his $1 million winning ticket into a $3 million, according to the Idaho Lottery.
A month later, he returned to Idaho to check all of his tickets.
"I had $2, $8, not a lot. And then they scanned another one and they told me I had to take it to the Lottery Commission!" Almeida said.
Earlier this month, he was all smiles when picking up his $3 million check.
Almeida said he plans to invest his winnings.
"I am taking this right to the bank and depositing it!" he said.
The Mega Millions jackpot eventually climbed to a game record of $1.58 billion.
Copyright 2023 Gray Media Group, Inc. All rights reserved.