Hirschi Huskies all 80s reunion deadline approaching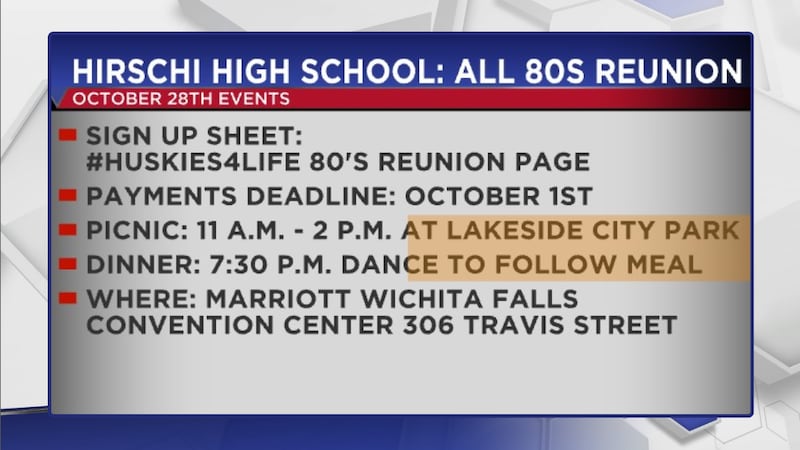 Published: Sep. 25, 2023 at 12:22 PM CDT
|
Updated: Oct. 2, 2023 at 3:05 PM CDT
WICHITA FALLS, Texas (KAUZ) - The reunion picnic on Oct. 28 has been relocated from Lakeside City Park to Lucy Park due to the number of attendees expected.
The Hirschi High School Classes of the 80s are having a final reunion before the school downgrades to a middle school. The reunion is scheduled for Oct. 27 and 28, covering graduating classes from the 1980s until 1990. The deadline to pay for and reserve tickets is Oct. 1.
The schedule is as follows:
Oct. 27th pep rally, tailgate, and game: The pep rally meets at 2:30 p.m. at Hirschi HS Fieldhouse, and the football game is at Memorial Stadium at 7 p.m. The tailgate has no updated details. Attendees can purchase a t-shirt to wear for these events by filling out this order form.
October 28th picnic, dinner, and dance: The picnic will be held at Lakeside City Park in Lakeside City from 11 a.m. to 2 p.m. The sign-up sheet for light finger foods is posted on the group's Facebook page. A school tour will be held in the morning at 9:00 a.m.
The dinner and dance will be held at the Delta Hotel on 306 Travis St. in Wichita Falls at 7 p.m. Dinner will be served at 7, and dance and festivities will follow the meal. Attendees can RSVP and pay by filling out this form.
Copyright 2023 KAUZ. All rights reserved.