Fugitive from McAllen added to Texas Most Wanted List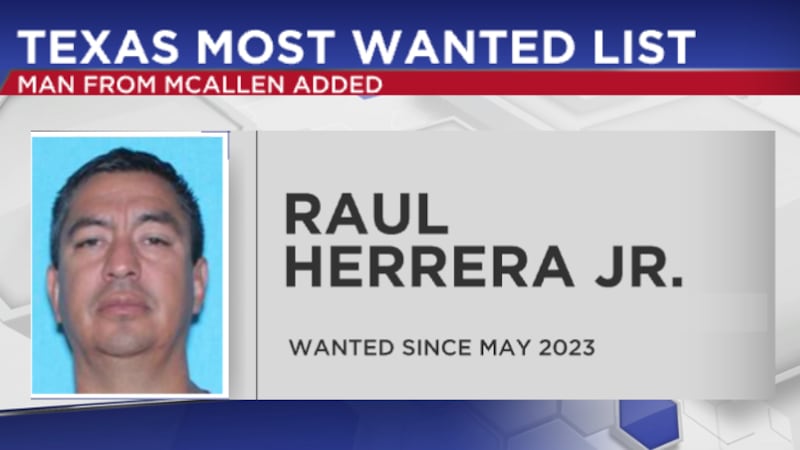 Published: Oct. 18, 2023 at 3:51 PM CDT
Texas (KAUZ) - The Texas Department of Public Safety has added a man from McAllen, Texas to the Texas 10 Most Wanted Fugitives List.
51-year-old Raul Herrera Jr. is affiliated with the Tango Vallucos gang and has, in the past, also been affiliated with the Texas Syndicate gang. He has been wanted since May 2023, when warrants were issued out of Hidalgo County for his arrest for aggravated sexual assault, aggravated assault with a deadly weapon, assault causing bodily injury of a family member, and violation of bond/protective order, according to DPS.
DPS said in 1990, Herrera was convicted of two counts of aggravated assault and sentenced to ten years of confinement. In 2002, he was convicted in federal court of conspiracy to possess with intent to distribute cocaine, as well as felon in possession of a firearm for which he was sentenced to eleven years of confinement and nine years of confinement, served concurrently. In 2014, Herrera was convicted of money laundering and sentenced to three years of confinement in a Texas Department of Criminal Justice facility.
Herrera is 5 feet 8 inches tall and weighs about 190 pounds. He has tattoos on his chest and both arms.
Crime Stoppers is offering a cash reward of up to $7,500 for information leading to his arrest. Crime Stoppers wants you to remember that all tips are guaranteed to be anonymous.
If you have details on the whereabouts of Raul Herrera Jr., call the Crime Stoppers hotline at 1-800-252-TIPS (8477). DPS said to not attempt to apprehend fugitives; they are considered armed and dangerous.
Copyright 2023 KAUZ. All rights reserved.