Retired teachers speak on Proposition 9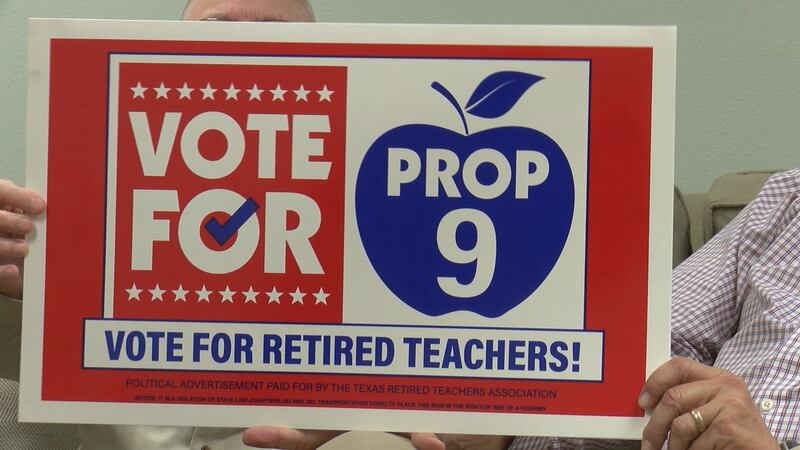 Published: Oct. 19, 2023 at 4:57 PM CDT
WICHITA FALLS, Texas (KAUZ) - The Texas Legislature has proposed 14 amendments to the Texas Consitution for Texans to vote on in this coming election. Proposition 9 relates to providing retired teachers with a cost of living adjustment on certain benefits under the Teacher Retirement System of Texas.
Dee Palmore is the legislative chair for the local chapter of the Texas Retired Teachers Association and the district legislative chair for District 9. But above all titles, he is a retired teacher with 30 years of teaching. Rodney Bertram was also a teacher for 17 years.
"We've got school personnel here in Wichita Falls that dedicate their lives, and I know teachers who have served 40 years," Retired teacher Rodney Bertram said.
Those public school retirees have not received a cost of living adjustment since 2004. Most are not eligible to receive social security, so a teacher retirement system pension is their primary source of income.
"I think the voters can appreciate the work that these teachers have done, the works that all the school personnel have done in the community and continue to do on a volunteer basis," Bertram said.
Rodney said it's important to note that Proposition 9 will not create a tax increase. The Texas legislature has already set aside the funds to make this happen with voter approval.
"We're not talking a large increase; they're only going to allocate anywhere from two percent to six percent," Bertram said.
If approved in November, the cost of living adjustments would start in January 2024. Retired teachers would see an increase of between two and six percent, depending on what year they retired. Those who have been retired the longest will see the most significant increase.
"The community here in Wichita Falls and throughout the area and state know the value of our public education system, and I believe they will vote for Proposition 9," Bertram said.
A vote for the proposition will affirm its passing, allowing the cost of living to be adjusted, while a vote against the proposal will deny the increase to Texas teachers.
Voters can find a sample ballot for Wichita County to see how each proposition will appear on the county's website, and they can find an online voter's guide from the League of Women Voters that explains each proposal in more detail.
Copyright 2023 KAUZ. All rights reserved.