'I shot the big one': Teen's patience leads to potential state-record buck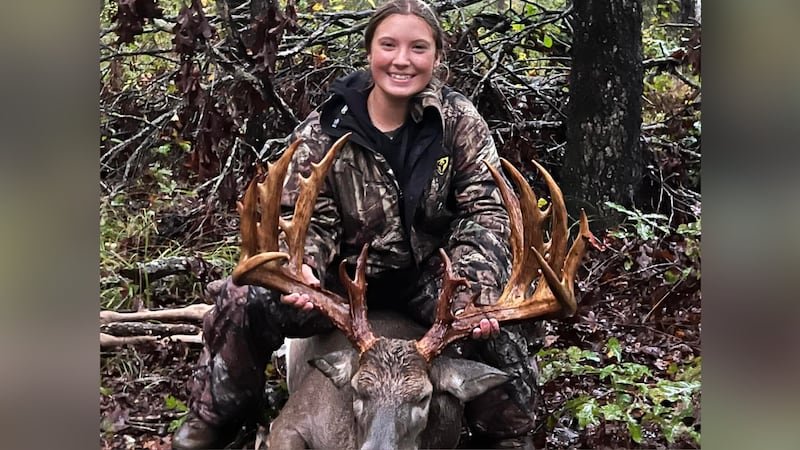 Published: Nov. 1, 2023 at 4:55 PM CDT
BOWIE COUNTY, Texas (KLTV/Gray News) - A 14-year-old in Texas looks to be a new state record holder following her harvest of a 31-point buck this week.
KLTV reports that Reili Brewer shot the deer following a weekend of cold rain on federally managed land in Bowie County.
She was hunting with her father Rickey Brewer, who was in his truck staying warm when he heard the shot.
"She had forgotten her rain gear, so she was wearing mine," Rickey Brewer said. "By 6 a.m. I was shivering and decided to go get the truck when I heard the gunshot."
The Brewers were watching a massive buck the father said they had been trying to hunt for three years.
"I had him on camera coming out of his bed after it had rained," Rickey Brewer said. "So, we were at a spot we hoped he'd come out."
The Brewers hunt at Red River Army Depot, which is part of an Army base. Rickey Brewer said he works as a government civilian and is allowed access to the land.
He said the hunting land is between 12,000 to 13,000 acres of heavy timber and is managed to encourage growth among the whitetail population. But the deer are free range and not held in by high fences.
Rickey Brewer said he came close to harvesting the same buck about a year ago.
"I was bowhunting, and he came through, but he didn't stop for me to get a good shot," he said.
Rickey Brewer said his daughter is a diehard hunter.
"She's been hunting whitetail for the past three years," he said.
Rickey Brewer said he ran toward his daughter's location that day after hearing the gunshot.
"She was just screaming and crying, 'I shot the big one,'" he said.
Rickey Brewer made it back to his daughter, and she pointed out where she shot the buck. He found the deer down about 35 yards from where it was shot.
Reili said she was on her phone and looked up when she saw the deer.
"My nerves were shot, but my dad's words were with me," she said. "I just took a big breath and slowly squeezed the trigger."
In addition to Bowie County land, the Brewers hunt in Arkansas and back home in Red River County.
"I've been in the woods since I was little," Reili said. "I've loved it ever since."
And her father said he was glad it was his daughter who made the harvest.
"I'm super proud of her," he said. "Just hearing her hollering and screaming, I wouldn't trade it for the world."
Rickey Brewer said a taxidermist scored the buck as 238 1/8, which would easily beat the state youth record of 209. But the record will not be official until 60 days and then it will be officially scored.
"I owe everything to him," Reili said about her father. "He sets me up on everything. He's been with me my whole life. It's incredible."
Copyright 2023 KLTV via Gray Media Group, Inc. All rights reserved.