TxDOT hosting Hwy 287 public hearing in Bellevue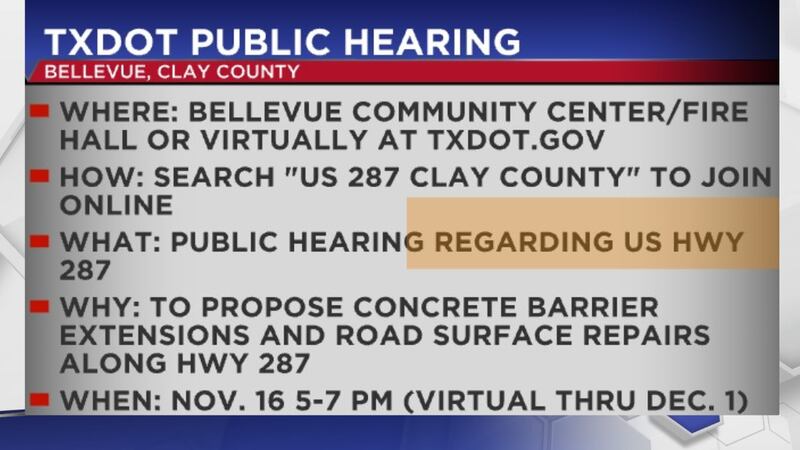 Published: Nov. 3, 2023 at 12:20 PM CDT
BELLEVUE, Texas (KAUZ) - The Texas Department of Transportation invites citizens to attend a virtual public hearing with an in-person option on Nov. 16 from 5 to 7 p.m. at the Bellevue Community Center.
The hearing regards the proposed extension of the existing concrete barriers on US 287 to prevent direct access to and from Burford Street and Betz Street from the US 287 main lanes within the limits of the City of Bellevue.
In addition to this work, the proposed project would repair and resurface the US 287 northbound main lanes and shoulders from Lone Star Road to the Montague County line.
To attend virtually, visit the TxDOT website and search for "US 287 Clay County." The virtual meeting will stay online with all project materials through Dec. 1, 2023.
The virtual public hearing is pre-recorded, and the materials can be viewed at your convenience.
The in-person public hearing will have the same presentation delivered in the online public hearing, playing on a screen. Attendees will be able to review hard copies of project materials, ask questions of TxDOT staff, and leave written comments.
All verbal and written comments by mail or email must be received by Dec. 1, 2023.
Copyright 2023 KAUZ. All rights reserved.