First female mayor in Wichita County, Pat Norriss dies at 88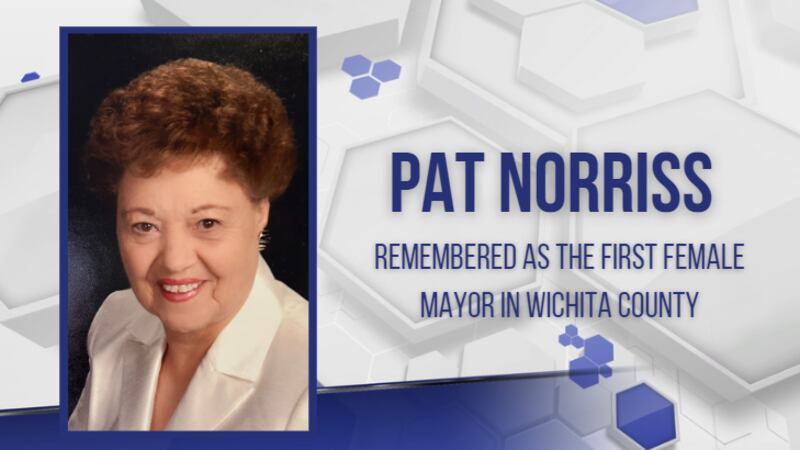 Published: Nov. 13, 2023 at 4:03 PM CST
WICHITA COUNTY, Texas (KAUZ) - The first female mayor for the City of Burkburnett and in Wichita County, Pat Norriss, passed away on Saturday, November 11, at 88 years old.
Pat was a dedicated community leader and held many "firsts" for females in Wichita County.
Pat was the first female mayor in Wichita County and Burkburnett, serving as mayor for 16 years and on the Burkburnett City Council for 22 years.
She was also the first female County Commissioner in Wichita County, serving Precinct 2 for four terms and sixteen years.
Pat was a board member and elected President of the Texas Association of Regional Councils and then elected board member of the National Association of Regional Governments.
Her family said she was also active in the Burkburnett Contemporary Study Club, Burkburnett Rotary Club, Parent Teachers Association, Auxiliary of the Veterans of Foreign Wars, and the First Baptist Church of Burkburnett.
According to her family, Norriss was a devoted wife to her husband, and a loving mother to her four children: LaVelda, Rufus, Clarisa, and Robin.
Her visitation will be held on Tuesday, November 14, from 6:00 p.m. to 8:00 p.m. at Owens and Brumley Funeral Home, located at 1101 Sheppard Road, Burkburnett, Texas.
Copyright 2023 KAUZ. All rights reserved.