Holiday events in the Texoma area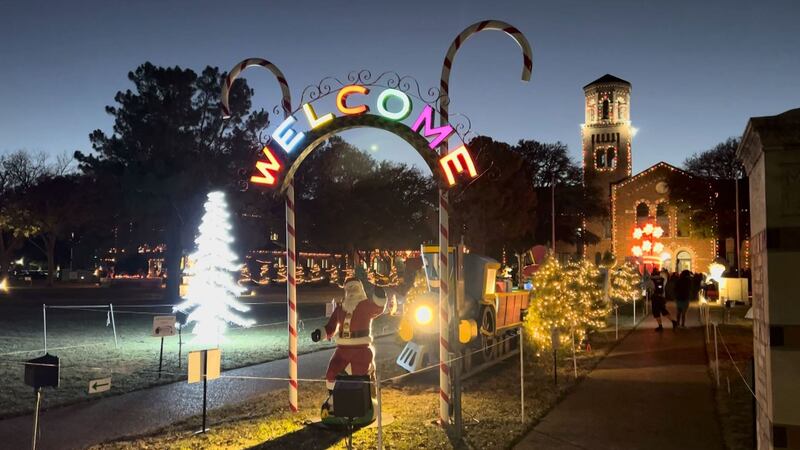 Published: Nov. 15, 2023 at 3:35 PM CST
|
Updated: 16 hours ago
WICHITA FALLS, Texas (KAUZ) - With the holiday season upon us, News Channel 6 is compiling a list of events in the area to help spread the holiday cheer.
Marlow Annual Community Christmas Parade
This event is hosted by the Marlow Chamber of Commerce the community on Saturday, December 2 at 10:00 a.m.
The Marlow Christmas Parade consists of antique vehicles, floats, tractors, and more; this parade is looked forward to throughout the holiday season. Parade viewers can enjoy their traditional viewpoints along Main Street. The line-up is on Seminole Avenue, found just one block south of Marlow's Main Street between 8:00 a.m. and 8:45 a.m.
Holiday Open House 2023
This event will be on Saturday, December 2 from 1:30 p.m. to 3:30 p.m. at the Wichita Falls Public Library.
The Holiday Open House will have music, crafts, sing-alongs, snacks, and photo opportunities for the whole family.
Mommy and Me: DIY Ornaments
This event is hosted by Crashworks STEAM Studio and Makerspace on Saturday, December 9.
Admission for non-members is $7 per participating child. The event will begin at 10:00 a.m.
MSU-Burns Fantasy of Lights
The annual MSU-Burns Fantasy of Lights at Midwestern State University is located on the Hardin Lawn.
The festivities will begin on November 20 and will be lit until December 26.
ElectriCritters: A Lighted Christmas Display!
At the River Bend Nature Center, more than 60,000 lights on more than 200 lighted displays will glitter and sparkle, bringing the sights and sounds of the season to adults and children. Their Nature Gift shop will be open for holiday shopping and other goodies!
ElectriCritters will be open every Friday and Saturday from 6:30-8:30 PM starting November 24 to December 23.
Admission to ElectriCritters will be made free to the public again this year.
ElectriCritters is a fundraiser for River Bend Nature Center and directly supports River Bend's hands-on natural science education and outreach programs for children and adults! River Bend is stroller and wheelchair accessible. River Bend is located at 2200 3rd St. near the main entrance to Lucy Park.
Kell House Heritage Center: Santa House
The Kell House Heritage Center invites the community to visit as Santa's Elves guide visitors through the house. The visit will also include the original play "The Magical Rocking Horse, Part II"
The tours will last from Wednesday, November 29 to Friday, December 8.
More information can be found here.
Iowa Park 2023 Christmas Parade of Homes
The 2nd Annual Iowa Park Parade of Homes will be on December 1 from 6:30 p.m. to 8:30 p.m.
The City of Iowa Park is currently taking nominations for homes.
Archer City Christmas Festival
The Archer City Christmas Festival will be on Thursday, December 7 in downtown Archer City from 6:00 p.m. to 8:30 p.m.
Santa will be set up in the Archer City Visitors Center for all of the children to come let him know their Christmas wishes.
The event will have vendors and food trucks.
More information on this event can be found here.
Christmas at Anchor
Saturday, December 2 from 6:00 p.m. to 7:00 p.m. at Anchor Baptist Church in Wichita Falls.
This event will feature games, prizes, hot chocolate, bounce houses, and live music.
City of Lights Parade in Downtown Wichita Falls
The 31st Annual City Lights Festival and Parade makes its way to Downtown Wichita Falls on Saturday, December 16. This year's theme is Dr. Seuss!
The parade starts at 7:00 p.m. at Travis and 8th Street and will go down 8th Street to Ohio, Ohio to 9th, and up 9th to First Baptist Church.
More details on the parade can be found here.
Cinemark's First Ever Holiday Movie Clubhouse
Celebrate the Season with family-friendly classics with $4 movie ticket admission from December 2 through December 18.
Classic holiday films coming back to the silver screen for this special event include Arthur Christmas, The Polar Express, and Dr. Seuss' The Grinch. Completing the perfectly wrapped package, ticket holders will also enjoy dollar-off pricing on all kid's snack packs.
For more information on Holiday Movie Clubhouse, visit Cinemark.com/hm
A full list of participating theaters can be found here.
We will be adding events to this list as we are made aware of them, send events to us at News@KAUZ.com.
Copyright 2023 KAUZ. All rights reserved.