Crystal Meth Comeback: Part 2
Published: Nov. 4, 2011 at 11:23 PM CDT
|
Updated: Nov. 9, 2011 at 7:03 PM CST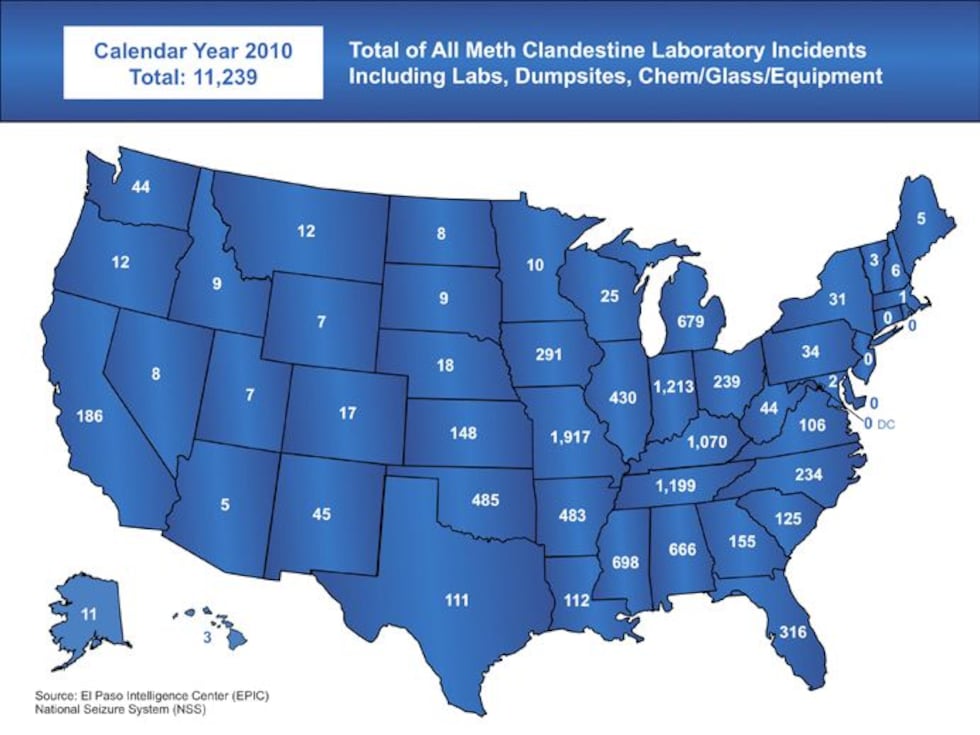 The battle against Crystal Methamphetamine continues across Texoma. Law Enforcement continues to fight those that cook and sell the drugs. The way that the Meth cooks are operating has changed. Law Enforcement agencies tell Newschannel 6 the new methods make it much more difficult to track the cooks.
Production methods are getting smaller and more consolidated. "Some of the things that we've been seeing is a reduction in the large scale Meth labs that we find in houses or trailer houses," said Wichita County Sheriff David Duke. Duke says the labs have gotten smaller. "Where you've got smaller amounts of chemicals which will produce a smaller amount of product, but they are able to do several of those at one time or several of them at different locations to get the final amount of product they are looking for," Duke explained.
The new means of production produce much less odor – sometimes making it more difficult to track. "It does make it difficult to catch them," Duke said.
Law Enforcement is forced to use other means of catching the cooks. "We have other ways than just the smell to detect what they are doing. It can be challenging," he said. Duke declined to comment on the methods used. "It would give trade secrets away," he said.
While Law Enforcement works in the shadows to stay on top of the cooks, one Texoma mother is stepping into the spotlight to keep the poison out of people's bodies. One year ago, Dawn Gentry founded the local chapter of Mothers Against Methamphetamine.
The group is working to help. Gentry says they are making progress."I think were definitely helping people and we've gotten to see some victories and people get clean and stay clean which is amazing," she said. In the past year, the group has gotten 501(c)3 status.
For Gentry, the progress is encouraging. "Its really awesome when you see someone that is trying to help their self and actually it works," she said. Gentry knows all too well the horrors of Meth addiction. "Meth will tear your family completely apart. It kills, it kills you emotionally, physically that's what it does; it tears your family apart," she said.
Gentry's daughter battled against Meth addiction. Gentry helped her get and stay clean, and now she's empowering others. "Oh, its torture - pure torture… All you can do is pray, and pray that their eyes will be opened to what they are doing to themselves and everyone around them," said Gentry.
Gentry is grateful for the positive changes she's seen. "I just thank God that today, that my daughter is clean and we just go a day at a time and just try to heal the wounds that its caused," she said.
While Gentry works to heal the wounds caused by the drugs, Law Enforcement presses on in the fight. Duke said there is a better handle on the drug than there was a year ago. "I think we do overall it's still there. We haven't stopped it by any means, its going to be here," he said.
If you or someone you know is battling a Meth addiction, there is help available. Call the toll-free 211 help line for assistance.
Paul Harrop, Newschannel 6
Meth by the numbers:
-10.4 million people over 12 years old have tried Meth at least once
- Meth use is greatest among 35-45 year olds.
- The biggest increase in treatment is among 18-25 year olds.
- Meth treatment admission has outpaced cocaine and heroin in 14 US states.
- 5.6 percent of high school students reported Methamphetamine use.
- As many as 90 percent of Methamphetamine addicts who stop using will return to the drug versus much lower rates for other substances.  
- After two years on Meth, an adult has depleted 25 percent, or 40 years' worth, of dopamine, the chemical needed to feel happiness and enjoyment. The average adult loses only 7 percent every 10 years.
- In 2005, the DEA seized 2,161 kg of Meth, then dropped to 1,113kg (2007) and has risen back up to 2,067 kg for 2010.