Community Empowerment Summit held to address Adverse Childhood Experiences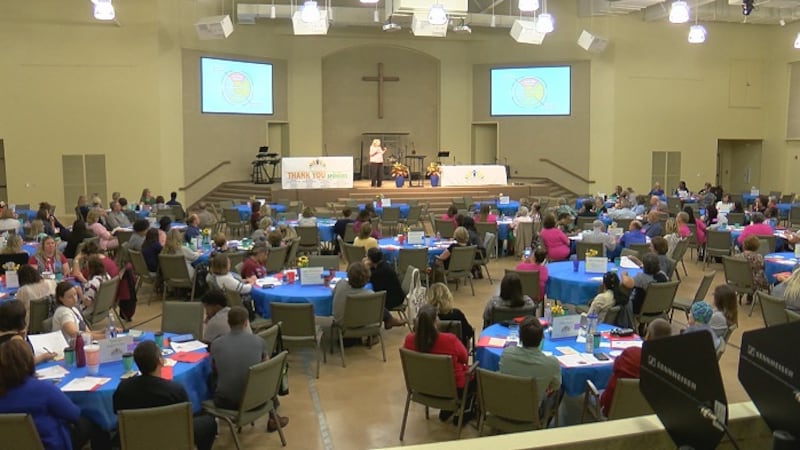 Updated: Oct. 4, 2018 at 6:21 PM CDT
WICHITA FALLS, TX (RNN Texoma) - The Wichita County community is teaming up with the Early Childhood Coalition to find a way to address problems with Adverse Childhood Experiences, also known as ACEs.
On Thursday a Community Empowerment Summit was held to start the process.
Leaders ranging from social workers to educators and government officials all met at Grace Church in Wichita Falls for the summit to figure out what can be done.
"Just because you have a few ACE's doesn't mean you're not going to be successful in life," Facilitator of the Early Childhood Coalition event, Beth Maywald said. "It means that you have to build resiliency and have the loving support of others to do that."
ACEs are the most powerful detriment of public health and social functioning according to the E.C.C.
"We hope that what those in attendance learn will spark interest in the groups that they work with," Maywald said.
That's exactly what's happening with the Superintendent Michael Kuhrt and the Wichita Falls I.S.D.
"We have to teach kids how to read. We have to teach kids how to do math," Superintendent Kuhrt said. "That doesn't matter if they have so many other obstacles in their life that don't allow them to focus on reading."
Superintendent Kuhrt said Thursday's summit was about getting the right people in the room, at the right time, and hearing the same thing to help those with ACEs.
"It's not just the athlete, fine art kid, or the reading genius," Superintendent Kuhrt said. "It's the whole child and it starts with safety, security, emotional, social well-being."
He said ACEs are prevalent in the community and there's not an answer yet on how to address it.
But he said this is the start.
"We have to help them feel safe, we have to help them feel comfortable, they have to be well fed," Superintendent Kuhrt said. "I think we can help them with all the other things that come along. But we have to start at that point."
"Down the road we will be able to come together as a community, all on the same page, and look at some of the ways we do things and determine if we need to make changes in some places," Maywald said.
Superintendent Kuhrt said they need to get ACEs to admit their vulnerabilities and show them that taking a risk can be a good thing.
He added that that's where they should start.
Copyright 2018 RNN Texoma. All rights reserved.