Hundreds of Texomans gather for Ted Cruz, Donald Trump Jr. rally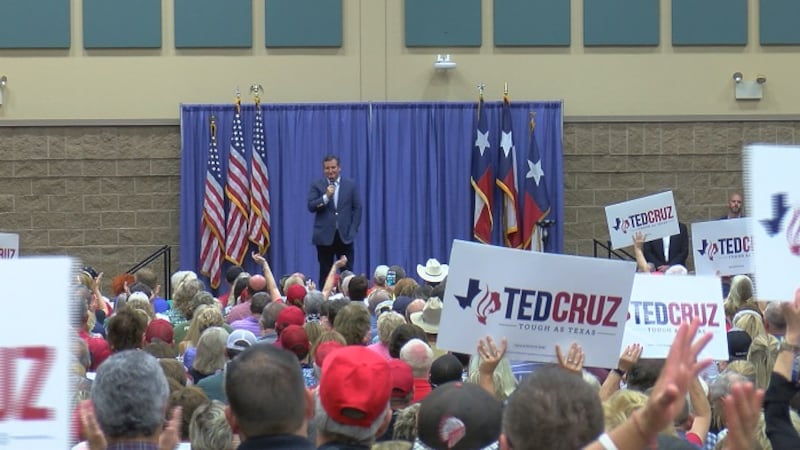 Updated: Oct. 3, 2018 at 7:09 PM CDT
WICHITA FALLS, TX (RNN Texoma) - Hundreds, possibly thousands, of Ted Cruz supporters gathered for a rally with him and Donald Trump Jr. Wednesday afternoon in Wichita Falls at the MPEC.
"We know he is a good man and we know his heart is in the right place," Patricia Hunt said. "That's why we came out. We are going to vote for him."
Hunt just learned of U.S. Senator Ted Cruz's rally Tuesday.
"I heard about it yesterday and my daughter got in touch with me and said let's try to go," Hunt said. "I said it's too late. Tickets are sold out."
Hunt said she and her grandson had to find a way to come.
"My grandson got us tickets," Hunt said. "Literally just about an hour before the rally."
Senator Cruz spoke about topics like immigration, first responders, and low taxes.
"I think it's not only important for us the younger generation of America to show our support, but everyone," Vincent Hunt said. "What are we going to give our kids when they're growing up? Are we going to give them 200 to 300 million different problems in America? Or several trillion dollars of debt?
"I'm an activist," Jill West said. "I'm in this, I'm for him, I'm for conservatives, I'm for keeping Texas red. I love President Trump, I love our state Representatives and State Senators."
It was important to Hunt and other supporters to come and show their support before the November election.
"I think it's important all republicans get out and they vote red," Don West said.
"My grandson is the reason I'm here," Patricia Hunt said. "They're our future."
Copyright 2018 RNN Texoma. All rights reserved.