Food vendor weighs in on recent food truck robbery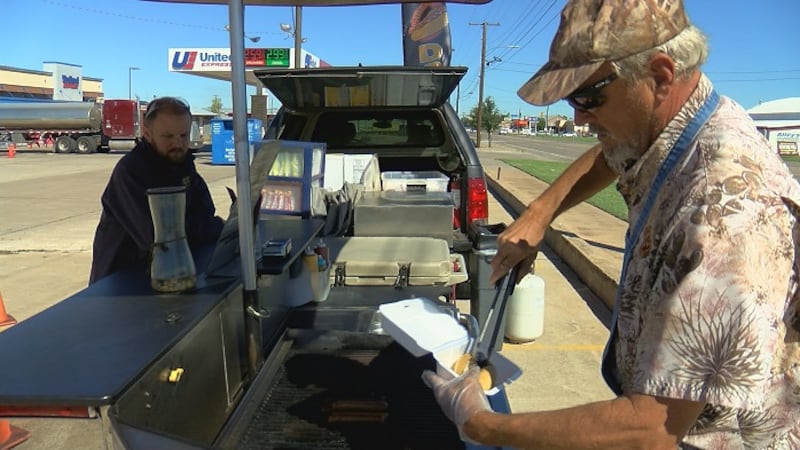 Updated: Oct. 10, 2018 at 5:59 PM CDT
WICHITA FALLS, TX (RNN Texoma) - Right now police are searching for two men in connection to the overnight robbery of a taco truck in Wichita Falls.
Investigators said they held several women at gunpoint before getting away with cash around 11:30 p.m. on Tuesday night.
With the recent robbery, police want food truck workers to use situational awareness to reduce the risk of an incident like that, or even worse.
Brian Lemmond owns the Red River Hot Dog Truck.
"I basically come out and have a cookout every day," Lemmond said. "And people seem to like the hot dogs. So they come by, order what they want, how they want it. It's satisfying to see the satisfaction of somebody that orders a hot dog, especially for the first time."
Lemmond loves what he does, but knows there are risks.
That's why he wasn't that surprised to hear Tacos Y Salsa Don Chuy was robbed at gunpoint Tuesday night.
"I think that might be their third time to have been robbed," Lemmond said. "I know it's not an uncommon thing. We're out in the elements, we're out exposed. We're not inside a building, we're not inside a facility that allows you a little bit more security."
Lemmond said he tries to use situational awareness to stay safe, something Wichita Falls Police Sergeant Harold McClure urges all food truck workers to do.
"You need to be aware of what's going on around you," Sgt. McClure said. "Let's not get into that bubble where it's just me, I'm not going to worry about anybody else because you may find out it does become a problem."
Sgt. McClure said if something seems off, call the police.
He also said criminals look at the risk and reward before committing a crime.
So he urges people to make their trucks high-risk and low-reward.
"Whatever it is that you can do to raise that risk value, that's what you want to do," Sgt. McClure said. "Whether it's parking in a well-lit area or having someone outside the truck at all times."
Lemmond said he won't let the latest robbery stop him from doing what he does to pay the bills.
"I hate the fact that somebody is willing to go out and try and steal somebody's livelihood," Lemmond said. "It kind of shows you where some people are in this world. But it's not something that's going to stop me from coming out and doing what I do."
Sgt. McClure also urges others to drive by and look out for one another, adding you might see something that someone else doesn't.
He also said he understands that some food truck owners might be armed and they do have the right to protect themselves.
But he said people should also weigh the value of life versus the value of some property.
Copyright 2018 RNN Texoma. All rights reserved.