Soccer team close to coming to Wichita Falls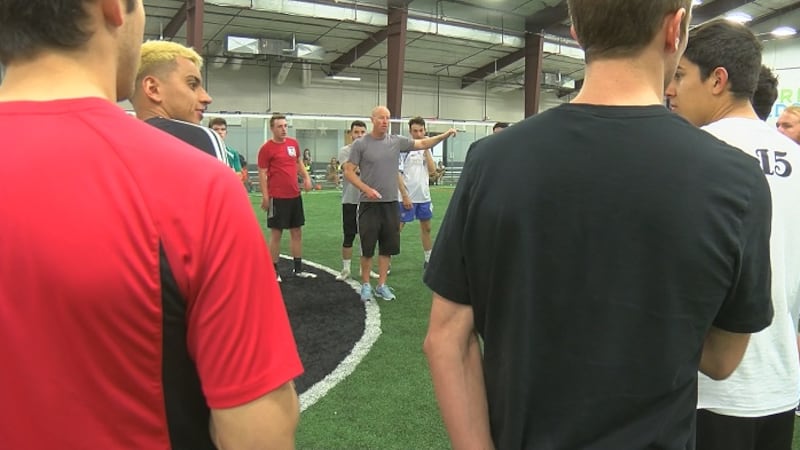 Updated: Oct. 17, 2018 at 6:58 PM CDT
WICHITA FALLS, TX (RNN Texoma) - For the last six months Spectra Venue Management has been working to try and bring a soccer team to Wichita Falls.
They are optimistic a deal will get done soon and that a new team could start as soon as April of 2019.
Owner of the FC Amarillo soccer team and head of the league the play in, Stephanie Tucker was in Wichita Falls Tuesday to meet with community members, business owners, and drum up excitement about the possibility of an FC Wichita Falls for the first time ever.
"Indoor soccer has not been done in Wichita Falls," Tucker said. "It really hasn't been done in this area and Amarillo was very successful. So I forsee it being very successful in this market."
Spectra, who runs all the MPEC facilities, has looked into bringing football back since the departure of the Wichita Falls Nighthawks.
But not this type of football.
However, they are excited and believe it's a great opportunity for the area.
"Everyone plays soccer," General Manager of the MPEC Facilities, Michael Tipton said. "You see three and four-year-olds playing soccer. And from the ground up everyone kind of loves it. Everyone who is here and has kids can relate. So everyone's excited."
Tucker said she is looking at bringing soccer to Wichita Falls because it's a city that embraces soccer.
"Wichita Falls has opened up their arms," she said. "Not just the MPEC and city leaders, but some of the community businesses. So it just kind of came up like a great fit."
Tucker said she loves the idea of having a good talent pool not only from Midwestern State University, but Oklahoma City and Dallas too.
So does Tipton.
He said he loves all of Tuckers ideas and think it could lead to a team that is a huge success.
"It's going to be good for everyone if we can get something that everyone can be excited about and everybody can get behind and root for the home team," Tipton said.
He said another team playing at the MPEC would mean more tickets sold, in return lowering the MPEC subisdy.
"We all want more events at our facilities because the more tickets we sell, the lower our costs will be," Tipton said.
Tucker said if a team comes to Wichita Falls it wont just be a soccer game.
It will be a family event.
"We want to bring it where we can continue to build the brand, community involvement, bring people from the outside communities to buy into what we're trying to do," Tucker said.
A contact has not been signed yet for a new team.
But Tucker said that could happen within the next month and announcement should be made by the end of 2018.
Tucker said right now there are teams in Amarillo and Lubbock and they're look at Wichita Falls Midland/Odessa for expansion teams.
She said she won't rush bringing a team to the Falls because her end goal is to create teams in markets that will last more than just one or tow years.
Copyright 2018 RNN Texoma. All rights reserved.